Songs That Might Otherwise Pass You By
Derek Webb, "This Too Shall Be Made Right"
(live, courtesy of
Relevant Media
)
This song is a plea. A very forceful, very moving and very strong plea. It's not a mealy-mouthed, watered down, new age singer-songwriter-y plea, though. He's got a force behind him that only comes from true conviction. He's begging us to pay attention to the world around us. He doesn't let himself off the hook: he includes himself when he says "we're trading comfort for human lives. That's not just murder, it's suicide." His message gets through not only because it's a very real, very relevant message, but because it's also encased in a gorgeous song: a plaintive, desperate voice begs us to wake up and realize there's a world in pain around us. He unleashes his frustration through his music--not so much strumming his guitar as repeatedly striking it until his conviction is borne out through the music, as much as through his vocals.
Website
Myspace
Derek Webb looks so serene. His guitars, however, are cowering in the corner, and I don't blame them.
Future of Forestry, "Love Waits"
(courtesy of
Relevant Media
)
Sometimes a song is so pretty I don't have words for it. It's too beautiful to try to condense into a paragraph. Maybe that's why I never pursued music journalism :) I obviously have limits. I'm not going to let my limitations degrade something as incredibly special as this song, though. This is the kind of song that becomes a description for the way you feel. When you think about the way love feels, you may start to think of this song.
Website
Myspace
Contemplating the Future of Forestry
Iron & Wine, "Boy With a Coin"
This song has every thing I've come to love about Iron and Wine's music--inventive music (in this case Spanish-style guitar with a bit of steel pedal) and gauzy, streaming vocals. There are even hand claps if you listen closely. Sam Beam, the person behind Iron and Wine, has always seemed like he could be the American version of Badly Drawn Boy, drawing his hazy melodies out of a Florida swamp instead of an English lake.
Website
Myspace
More songs on the
Sub Pop media page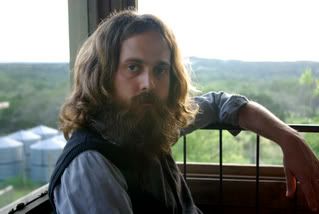 Sam Bean of Iron and Wine knows he looks like that guy from Sideways.
Podcast Saturday night or Sunday!
Bonus:
These are videos for songs I love that I couldn't find the mp3s for.
Remi Nicole, "Go Mr Sunshine" (video only)
Myspace
Website
Scott Matthews, "Elusive"
Website
Myspace