Songs That Might Otherwise Pass You By

Editors, "Smokers Outside of Hospital Doors"
This band has a talent for creating majestic rock songs. There's something regal about their music--the singer's bold, tremulous voice vibrates against the frenetic clash of instruments, churning out the most logical and cohesive cacophony ever. I can't begin to tell you what this song is about from the
lyrics
, but it feels important. It feels inevitable.
Website
Myspace
The Editors
peer into the soul of the camera
Roddy Woombie, "Every Line of a Long Moment"
(Thanks to
KEXP
for this and the previous song)
This song is decidedly quieter than the previous. Whereas the Editors song is meant to be a sensory assault, this is more of a sensory observation. He's taken his experiences and crafted them into a beautifully languid folk song about the differences between an existence that is his own and a carefully ordered existence. He's free to do anything while another person wakes to "every winter morning between clock hands than type out" their day. He can blissfully write out each long moment as he gazes across the Atlantic while the other person doesn't get much of a chance until they're walking home through fields that turn from green to grey. He's not totally off the hook, though--he wakes up every morning and makes coffee--the "morning's secret code", a ritual he has to perform to start the day.
As someone whose days are ordered by a clock, his observations makes me want to move to a sparsely populated area of Scotland and do exactly what he's doing. In the meanwhile, though, I have this song as inspiration.
Website
Myspace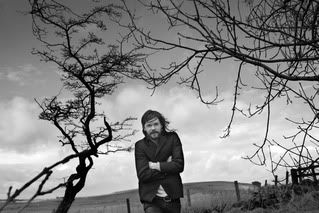 It looks beautiful wherever
Roddy Woomble
is
Jesca Hoop, "Enemies"


There's a danger in just labeling this a folk song, as there's danger in labeling anything. To some people, calling something a folk song means calling it light and winsome with subject matter ranging only by which environmental or social topic it covers. This song could be considered folk music in that it was bred from the ground instead of from a mold. This song is sparse, but it is not light. Her voice wraps around the song as if her chords would choke it. She creates an intensity that's fitting for lyrics like "you were like an innocent child who followed every line back to my enemy". Sacrifice much? Later, she says that beauty is something without grace. I would say she's found beauty and a strange, needling type of grace that wraps around us as a subtle, sure reminder that it could crush us.
Website
Myspace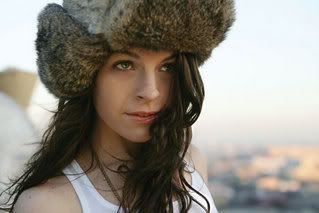 Jesca Hoop
I'm dedicating the following song and video to my friend David:
Dresden Dolls
, "Sing"