Five Songs I'm Loving This Week
Laura Veirs, "To The Country" (Thanks to Stereogum for the mp3.)
Oh, it's such a pretty song. Oh, it has a multi-layered chorus, and the subject matter is both quaint and vibrant at the same time. The violin is gorgeous and the vocals carry me away. The chorus, "Heavenly stars, heavenly stars" is heavenly, and reminds me
alot
of our sir, Sufjan Stevens. The violin sounds almost celtic in style in some parts, while the song itself is unclassifiable. I first heard this song on
Inhouse With Jeremy Petersen
, and I became enamored. I've posted about Laura Veirs before, and I was excited to hear her new album,
Saltbreakers
. "To The Country" is easily my favorite of her new songs I've heard so far.
Website
Myspace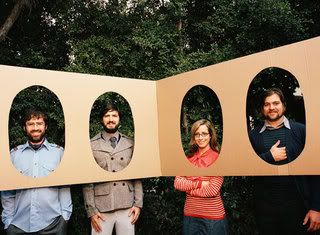 Laura Veirs and the Saltbreakers
The Kissaway Trail, "Smotherevilhurt"
(Thanks to
The Daily Growl
for the mp3)
This is one of the weirder song names I've heard, especially since there's nothing evil sounding about the song. It actually sounds kind of 80's--like it could be on a John Hughes soundtrack, right next to Belouis Some (if you don't know that name, that's okay--you're in the majority), New Order, or (especially) The Psychedelic Furs. The singer's vocals are a little strained, but that's okay--they don't overshadow the loud, grandiose (in the best 80's way) music. I listen to this song because the 80's aspect reminds me of a time when I thought being a teenager could be sacred, unique and important. A time when John Cusack could hold up a boombox (not a Hughes movie, but the same time period and the same importance to me) and I felt like that boombox was playing for me. Hey--don't laugh. I bet you thought something similar at some point in your life.
The name of the song is listed as Smotherevilhurt on their Myspace, but other places it's listed as Smother + Evil = Hurt. Either way it's still a very cool song, regardless of my 80's fixation.
Website
Myspace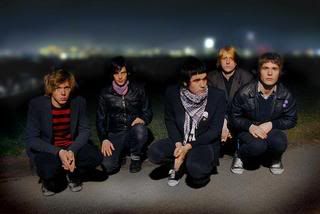 The Kissaway Trail
bow to you
Damon and Naomi, In The Sun"
Lola loves her lo-fi, shoegaz-y meditations. This song reminds me of something Nico would've sung for the Velvet Underground--the singer's voice is reminiscent of Nico's, without the sharpness and scratchiness. This song make me want to lie in a darkened bedroom, stare up at a ceiling I can barely see, and try to freeze an unidentifiable feeling and moment in time. I can never capture those moments, but sometimes the feeling of wanting to stop time is the feeling I want to remember.
FYI: They were part of the origins of shoegaze:
Galaxie 500
.
Website
(no Myspace)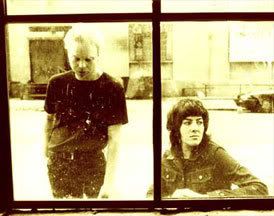 Damon and Naomi
Elliott Smith, "Half Right"
(thanks to
Lines Through Lines
for the mp3)
Elliott Smith has a new album. No, I'm not getting him confused with another artist. No, I'm not playing a mean joke. Yes, I'm serious. He has a new album, in the way Tupac has new albums. The new album,
New Moon
, has been culled from previously unreleased versions of released songs and completely unreleased material. There are songs like "Pretty Mary K" that were on previous studio albums, and appears on the new album in demo form. My favorite of the few (very few) I've heard from the new album is a cover of the Heatmeiser song "Half Right". It's classic Elliott Smith--sad, resigned and somewhat taunting towards the invisible other person/group of people he's singing to. I always related to him because I could recognize the resentment and anger in his songs.
Album Myspace
Label Site
Very nice fansite
Elliott Smith, New Moon
album cover
May or May Not, "Bike"
Big band horns that punch through the song, and staccato vocals that mimic the music remind me of the 70's album-oriented rock I grew up listening to--songs by Yes, America, Supertramp. Songs that were as expansive as this country is, and that sounded as optimistic as it could be also. The elaborate instrumentation in "Bike" is also reminiscent of current bands like Beirut and Devotchka that trade the usual guitar/bass/drums combination of most modern line-ups for a more orchestral configuration.
Website
Myspace
May Or May Not on
CDBaby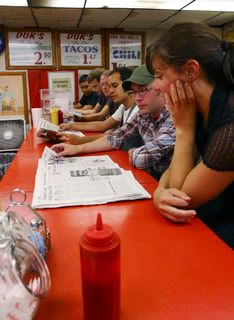 Will they answer the ad that says "Free kittens to good home"? They
May Or May Not
...