Five Songs I'm Loving This Week
(also, podcast show notes)
Hello. It's Lola. I'm sitting here drinking tea with caffeine (which is bad) but without sugar (which is good, but bad 'cause I'm using fake sugar). I'm also listening to some of the great songs I've found this week. I just wanted to let you know that I'm going to have to make some changes to the blog. Not big changes, I just may not always be able to include mp3s with every song I write about. I probably will make sure I have downloads for at least 3 or 4 of the songs, but there will be some cases where I will need to substitute the video (streaming) or even just point to the website. Why? Because
I'm scared
. That's all I'll say about it. I'm also going to go back to using the original locations for most of the mp3s, unless the original source is just too difficult to navigate or it's not obvious where on the page the mp3 is. Okay, so that's my announcement. You may go back to what you were doing, or, actually go on and read my blog :) The first song is so awesome.
Charlotte Gainsbourg, "The Songs We Sing"
I read that Charlotte Gainsbourg, the French actress who was in a movie I saw recently (
Science of Sleep
), had an album just released called
5:55
. I was skeptical--I'm too used to actors wanting to be musicians, musicians wanting to be actors, and rarely anyone pulling it off, which is probably why I crack up every time I hear this
Onion news bulletin
. I wanted to know for myself, though, if her music was good, so I looked up her
website
and Myspace. The first song that played was "The Songs That We Sing". I immediately thought that it was a beautiful and unique song, and that the music compellingly arranged--it manages to sound tense and light at the same time. Of course her voice helps add the lightness--her voice softly pushes the words along, with just the barest hint of an accent. In addition to the mp3, I found the
video
online--she has a haunted look about her--slightly distant, slightly vulnerable, but gorgeous all the same.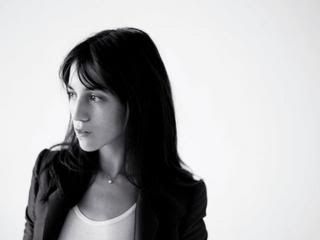 The lovely
Charlotte Gainsbourg
Augustus Sweetheart, "I'll Be The Getaway Driver"
(scroll down to "secret song", or click on their
Myspace
for the song)
Sigh...this is not a new song. In fact, the band's disbanded. Whoops. It's a neat song, though. They're from Washington state, but the sound reminds me of some of my favorite British and Irish music of the 80's--like the Psychedelic Furs, with maybe a little Dexy's Midnight Runners. It could be
the
really cool song on the John Hughes soundtrack. You know how all the songs on John Hughes soundtracks were always good, but there were always a few that you would wake up thinking about in the middle of the night? This could totally be that song. (Oh before anyone gets an attitude about me saying John Hughes soundtracks are great, which they are, please remember that New Order and Echo & The Bunnymen were on the
Pretty In Pink
soundtrack. Suzanne Vega, too--pre-Luka.)
Label Site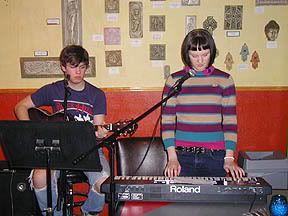 The school assembly went well for
Augustus Sweetheart
Deliurium Tremens, "The Circus Song"
I love a gothic chanteuse, but this song has a lot more kick than your average black-clad coffeehouse waif. The guitar and bass aren't afraid to stake it's territory--it has to. It has to be able to keep up with the strong, emotional and resonant dual male/female vocals. The songs seems to be about internal conflict--she's been living "upside down", but she's "too drunk to care" and he's just basically angry. They seem to be wanting to share their faults, and maybe get a little clemency. There's a drama to this song that reminds me of
the music from Hedwig and the Angry Inch
. John Cameron Mitchell infused his character with a similar need for self-expression and self-understanding, with the unfortunate side-effect of a lot of self-flogging.
(Warning--for the non cussin' out there, she slips in a quiet utterance of the "F" word.)
Website
Myspace


Deliurium Tremens
Radical Face,
"
Glory"
(from the media promotional site Toolshed)
I have to love an intro that begins with whistling and piano, then adds humming and percussion along the way. From that beginning the song marches forward--progressing rapidly, rarely slowing and never losing focus. It keeps momentum even as some of the instruments drop out, retaining the structure of the song but momentarily lessening the tension. Adding a chorus of "ahhh"s to the already escalating and unified suite of instruments gives the finale a sweeping, orchestral quality. Varying the composition like this gives the song life--makes it more dynamic and engaging than if they just played the straight melody. Also, the whistling is awesome. Radical Face is really just one permanent member, Ben Cooper, and he draws from a roster of talented musicians to flesh out the music. Also, he's from my town, Jacksonville, Florida!
Website
Myspace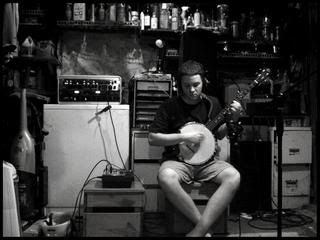 Radical Face
Cary Brothers, "Who Are You"
I've been a fan of Cary Brothers for a few years now--"Blue Eyes" was probably one of the first songs I posted. He's been extremely successful, despite (according to his Myspace) not being on a label. According to his Myspace, "Blue Eyes" became one of the 50 most downloaded songs on Itunes and he's been featured on several soundtracks including Garden State and the "Last Kiss" soundtrack.
Anyways, this isn't an informercial for him; I just find it inspiring that a musician can achieve so much just through hard work and a huge fan base (his Myspace has had over 3 million hits). According to his website, though, he has just partnered with
Bluhammock Music
to release his record, but it looks like everything up until recently he's done on his own.
I could listen to this song a dozen times in a row (which I'm almost at now, anyway). It's perfectly made, perfectly played and the vocals embody the emotion and tone flawlessly (but I'm not gushing) . Interestingly, the reviews I've read point to him as an acoustic artist, but this song is
very
plugged in. I'm made no secret that I adore wall-to-wall, thrashing, screeching guitar (if it doesn't overpower the song or derail the song) and this song screams, screeches and fills my apartment with vivid, strong emotion. He's singing about someone whose existence is imploding ("one more pill and you won't feel a thing"), but the song isn't about the person's derailment; it's about his love and adoration for the person. This is a welcome and unfortunately uncommon perspective in most modern music--usually the amount of love is equal to the amount of happiness and ease in the relationship. In truth, love is strongest if it grows during the bad times, making the bond between the two people even more solid.
The music and vocals escalate with this conviction--he ferociously sings that he adores this person, even after he admits that this person doesn't know who they are--the windows are "crashing" around them, and there's no one left to carry them away. Justaposition like this absolutely belongs in a love song, and his willingness to bare these feelings out without reservation and without the need to justify makes this one of the most uplifting and purely expressed love songs I've heard in a long time.
Website
Myspace
Cary Brothers
Please look at the two previous entries for my podcast and a review of the rerelease of Leonard Cohen's
Songs From A Room
.
Here are the show notes from this weekend's podcast:
1) Limbeck, "
Big Drag
"
Website
Myspace
2) Voxtrot, "
Trouble
"
Website
Myspace
3) Semaphore, "When You Can't Sleep" (okay, well I swear to all that I know that this was on Myspace a few days ago, because I'm certain that's where I got it. Oh well).
Website
Myspace
4) Swati, "
Blackjack
"
Website
Myspace
(Hey--also on Bluehammock records, like Cary Brothers!)
5) The Long Winters, "
Carparts
"
Website
Myspace
Thanks, folks!