Songs That Might Otherwise Pass You By
(Podcast Episode 27 download information and notes are included in this post, also)
Maximo Park, "Girls Who Play Guitar"
Girls who play guitar are cool. Ani Difranco, Suzanne Vega, Kristen Hersh and many more...this song, though, isn't really about girls who play guitar. It's really about all the
things he used to talk about
with his estranged partner. The theme of estrangement is repeated in a few of their songs, notably their gorgeous song "Books From Boxes" (
video
). I've loved all the songs I've heard from Maximo Park--I streamed several on their website. They're of the ballsy school of British rock--more Arctic Monkeys than Badly Drawn Boy (though I love Badly Drawn Boy as much). This music makes me want to be much younger, dancing through the night in some of Britain's musical hotbeds like Manchester or London.
Myspace
Website
You Tube Site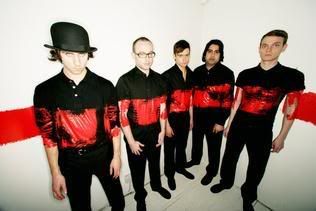 Maximo Park
Ra Ra Riot, "Each Year"
I can't really understand a lot of what the singer in this song is talking about, but I hear phrases like "where homes are built on frames" and "silhouettes on a window frame". Okay, so I can't comment on the lyrics but I can comment on the song as a cohesive unit. The song is crafted with such love and energy that I'm caught by it. The violin is gorgeous and the singer's inflections just make the song all the more addictive. Perhaps adding to my adoration of this band (and not just the song) is the knowledge that one of the members
lost his life just a few months ago
. How individuals deal with tragedy is an insight into what kind of individuals they are, and the fact that they've kept the band going despite the pain and bewilderment they're experiencing is a testament to their friend and to themselves. Though being proud of a band isn't a requirement for me being a fan, it's a nice feeling to know that a band is truly worthy of admiration as individuals and not just as talented musicians.
Myspace
Website
Memorial page for John Ryan Pike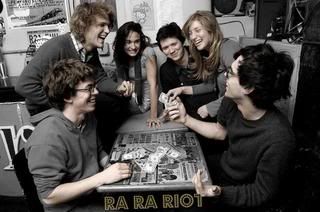 Ra Ra Riot
Dancer Vs. Politician, "Justin Fairborn"
Wow...there are a lot of members in this band. And they're from Berlin and Athens, Georgia. That's an interesting combination (I'm from Georgia--I can say that with some authority). Growing up in Georgia, I had a friend who was from Germany. She was an exchange student. She went home after a year. That made me sad. Anyways, apparently Germany and Georgia are together again in the form of this band. I got the song from
Indie Feed
, and unfortunately it includes someone from Indie Feed introducing the song and then some talky bits at the end. Oh well. Das ist life, or something (I took a year of German--cut me some slack). This song is definitely from the more gentler side of the musical spectrum, and as I've said before, I love many types of music: Loud, brash onslaughts of music like "Girls Who Play Guitar", songs that don't belong to either category like "Each Year" and songs like this that quietly sink into your consciousness. The only requisite for me to latch onto them is for me to like them.
Myspace
No website listed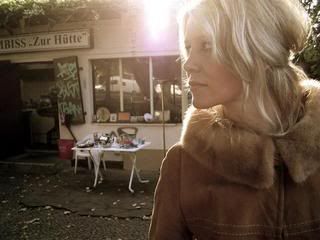 Sanni Baumgärtner of
Dancer Vs. Politician
Podcast!!!
Direct Link
RSS Feed
(Oh, by the way, the Great Ubunto Experiment was deemed a failure last night. We were in danger of throwing Ubunto out the window).
Shownotes:
Two Gallants, "
Despite What You've Been Told
" (from
Saddle Creek's website
)
Website
Myspace
Low, "
Breaker
" (from
Sub Pop's webpage
)
Website
Myspace
St. James Inc., "
Busy
" (from
Sub Pop's
webpage)
Website
Myspace
Ani DiFranco "
Both Hands
" (new version--from
Toolshed
)
Website
Myspace
The Icy Shores
"Backseat"
(mp3)
from "What You Get And How You Get It"
(Catlick Records)
Buy at
eMusic
John Vanderslice, "
White Dove
" (from
Insound
)
Website
Myspace
New blog post next weekend and new podcast in two weeks!
Thank you!