Five Songs I'm Loving This Week

Before I start: Podcast either tonight or tomorrow!

Cassettes Won't Listen, "F**K and Run"
(explicit--this version and a clean version can be found
here
)
This is my favorite song from Liz Phair's excellent 1993 debut Exile In Guyville. The whole album was a snapshot in time: a snapshot of my silly youth, a snapshot of Liz Phair herself since I don't think her later music has had the same rawness and incalculableness (word?) about it.
Cassettes Won't Listen took the rawness out of it, but what's left is still a really good song, and their interpretation is interesting and strangely kind of upbeat. it doesn't sound sad anymore.
Myspace
Website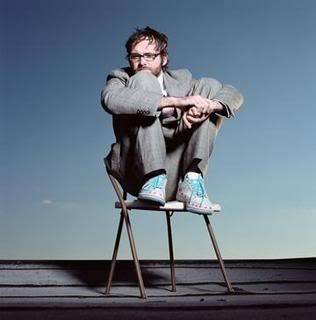 Cassettes Won't Listen sees a bug and jumps up on a chair like a little baby girl cassette! (Photo by Bob Martus)
AA Sound System, "Laissez Faire"
(originally from
SXSW's site
)
I'm still only about 1/12th through listening to all the free songs on the SXSW site. There's a torrent download for all 1,200 (or however many) of the songs but I kept getting an error message when I tried to download it.
Luckily, though, with their band name starting with an AA and all, this was one of the first songs I heard. I have a feeling it's going to end up being one of my favorites--even if I listen to all of them. Despite the singer saying he snapped at someone like a dragon in full bloom, there's nothing harsh or snappish about this song. It's smooth, drifting and gorgeous. The song itself is laissez-faire; content with being it's own peaceful self. It makes me want to drift along, watching the sky and tops of trees go by. I know--can I be any more of a sap? Probably--don't test me. Anyway, as the singer says, "it's all gonna work out fine" and I feel just fine when I'm listening to this song.
Myspace
Website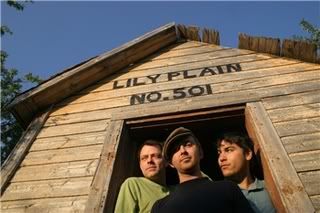 AA Sound System get some learnin'
Brianna Lane, "Still Alive"
(Warning: Yousendit link--only good for 7 days)
I first heard this song on one of the podcasts I listen to, and I fell absolutely in love with. Of course I couldn't find a copy of it online, so I did something bold, innovative and I'm sure completely unheard of: I e-mailed the artist and asked her if I could put her song on my blog. I had no idea if she'd respond, but I'd have a better chance of getting the song if I e-mailed, so I did. I know--the suspense is killing you. Did she e-mail back? Did she let me have the song? Well, duh, Sherlock. I'm posting it, aren't I? :)
I'm posting it as a Yousendit link, though, because she asked me to take it down after a short while, and I knew I'd forget, so I figured Yousendit was the surest way to go since the .mp3 is automatically taken down after 7 days.
The guitar work in this song is lovely, and Brianna's voice glides along the music as surely and effortlessly as the guitar does. She actually reminds me *alot* of my friend D. Mangione who goes by the stage name
Josephine Sweet.
I'm grateful Brianna let me borrow the song and I hope you love it as much as I do.
Sweet picture!
Myspace
Website
Rooftop, "Hallelujah"
(Warning: Yousendit link--expires in 7 days)
I've heard several versions of this song. At least six versions. Up until now my favorite version (and one of the few that I thought got it right) was Jeff Buckley's. The way his voice cracked so often; I could feel the pain and the gravity in each word. Whereas his version conveyed the wretched pain inherit in the song, this new version is full of hope and reverence, which also has a place in this song (the name of the song is "Hallelujah", afterall). This woman pushes each note out with striking brilliance and soulfullness. This woman's voice
is
brilliance and soulfullness. I still love the Buckley version, but I've found salvation with this version. Just listen to her voice.
This is not a great copy of the song, though: it's from NPR's Open Mic series and there's talky-talky at the beginning (and it's not me doing the talking). I searched to the rooftop for a good version, but no luck. I'm doing this as a yousendit link because *though* I got it for free through a podcast, NPR doesn't offer it for download on their site, and I don't feel like messing with NPR. I'm sure they'd be polite about their Cease and Desist letter, but still...anyhoo...the song will be up for 7 days. The video is below:
Video
Website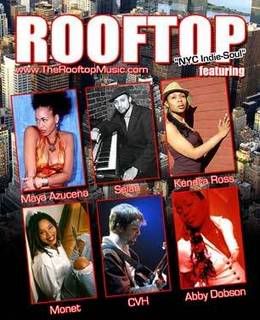 The Rooftop
The Twilight Sad, "Cold Days At The Birdhouse"
(originally from
Promonet
)
I got this from
IODA
(Independent Online Distribution Alliance). If you write about music or have a music podcast, it's an important resource. If you just love music, it's a great place to go. Their podcast is called Promonet, and this song came through that.
This song is heavy on guitar, but yet also has one very gentle, very unobtrusive piano note repeating in the background. The song is contradictory at times, but it's the mixture that makes it so compelling. It starts off slowly and contemplative; sounding like a country song done celtic. It progresses into a series of clashing and thrashing guitar parts, which just gives me all the more to look forward to as the song reaches the end. Huh...wonder if the "red sky at night" line is a reference to The Fixx. Maybe not; would be cool, though.
Myspace
Label Site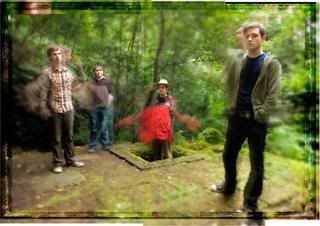 I think one of the band members is stuck in the guy in the middle and is trying to come out John Hurt-style. (Photo by Neale Smith)
IODA asked me to post the following as part of my user agreement. I couldn't get it to work at all on Myspace, and I'm not entirely sure it's working now.
Download "Cold Days From The Birdhouse" (mp3)
from "The 3rd Annual IODA SXSW Opening Day Bash Sampler"
by The Twilight Sad
ioda
More On This Album