Five Songs I'm Loving This Week



First off
, let's all congratulate Lola on winning the "Stupid Move of the Week" (and it's only Sunday!) award. I decided to come to the coffeehouse, brave potential loudness, obnoxious teenager-ness and having to type on a laptop, all for a change of scenery. Anything to get away from my living room and my same old laptop (love ya girl, but I need a break).
So I packed the laptop up and walked the few blocks here.
Yes, and I left all my notes at home. I can reconstruct most of it, but it's gonna be a chore remembering where I got everything. Let's see how I do.
Los Campesinos!, "You, Me, Dancing"
You've got to love a band who takes on part of their band name, punctuation included, as their last names. So, no, the Campesino!s in this band aren't all related, and Campesinos! isn't their given names...or maybe it is. Maye that's where they got the band name...no, I'm pretty sure I read that they took that name as their last name, a la The Ramones.
The song starts off deceptively slow, but soon hypes up to Mates of State levels. Their vocals actually remind me of Mates of State--hyperactive, exaggerated and taking a shotgun approach to singing, veering between actual singing and "talk-singing". Still, the fun of a song like this is the shotgun approach. It's like dancing; it may not always be the most perfect (or sometimes the most recognizable as being what it is), but the point is that it's done with true gleeful abandon and a sense of spontaneity. They must be having fun, because there's laughter at the end of the song.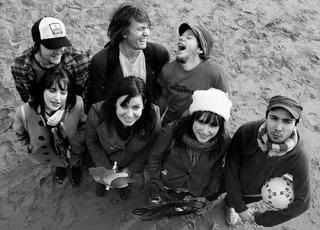 Los Campesinos! look like they're having fun. "You Me Dancing" is from the EP
Hold On Now Youngste
r. I found the song through
Fingertips Music
. The band offers their new single "We Throw Parties, You Throw Knives" through their
website
. They also have a
Myspace
.
Delorean, "Heather, Remind Me How This Ends"
(from their 3rd album
You Can't Win
)
I actually have Delorean's last CD (yes, I actually own a CD...) and I liked it a lot, so when I saw that they had new songs, I was very interested. This song is very alt-country--very back porch, looking at your pick-up in the yard and pettin' your basset hound on a lazy Sunday evening. I love those types of songs.
I'm not sure if Heather ever told him how it ends, though, 'cause it just kind of ends. Guess she didn't. She missed her cue.
I got this song from the ever-wonderful podcast/radio show/music blog
In House With Jeremy Petersen
. He has awesome taste in music and frequently includes complete mp3s on his blog for some of the songs he plays. I couldn't find a Myspace for them, but--oh how cool! According to their
website
, their touring with Kristen Hersh. What an awesome bill!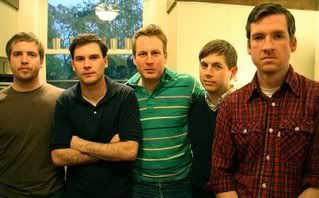 Delorean (the band, not the car)
Dean and Britta, "Words You Used To Say
" (from the album Back Numbers)
If you've heard Luna or Galaxie 500, then you've heard Dean Wareham. Those bands were staples for my generation. Along with Spacemen 3 and other space-trippy bands of the late 80's and early 90s, these bands fueled certain nights for me and helped me to identify the years that turned me into an adult (the same years I nearly slept through).
The spaciness is still there, but it's more of an underlay in this song, not obscuring the vocals or the melody, but enhancing them. This song has a bit of a meandering tone, much like the Delorean song. Alt-country for folks who like to gaze at the night sky and dream of other realities? Okay, I'll buy it.
There's a video for "Words You Used To Say" on their
website
. They also hae a
Myspace
. Thanks to
The Yellow Stereo
for the mp3. You can listen to samples of each song from the album on their label site,
Rounder
.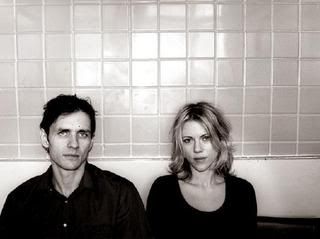 Dean and Britta say "What we do in between sets is our business. If we want to sit in a bathtub, we can..."
***
This coming up week is South By Southwest, in my mind the holy grail of music festivals. I've never been, but one day I will...mark my typing. I will go.
The website for SXSW (as it's known to those of us in the know) lists hundreds of mp3s for the bands scheduled for the festival (hundreds and hundreds of bands will perform). I've trolled through part of the list, but it's gonna be awhile before I make it all the way through, so expect lots of these songs to make an appearance on my blog/podcast in the next few months.
Hera, "Don't Play This"
(from the album
Don't Play This
)
Okay, I offically LOVE, LOVE, LOVE this song. I don't just love it, I love it times three. What is not to love about a song that's so obviously a bitter anti-love song. She says if the person ever gets another kiss, she hopes he/she "chokes on it". Ouch! Anyone who's ever left a bad love situation will fully comprehend the meaning...although it makes me laugh when she says "this is a song I'll never play". Obviously she has played it--I found it on th
SXSW site
. Maybe she means she's never played it live. Why would they feature it on the festival's site if she's not going to play it, though? Maybe she's talking about a different song she'll never play. Maybe she's singing a song about a different song..maybe...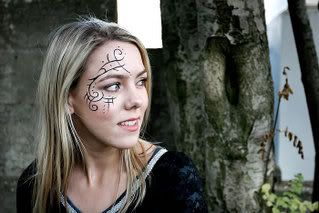 Hera's originally from Iceland, but if her English sounds perfect, it's because she's lived in New Zealand since she was twelve. Hera's
Website
and
Myspace
. (
The cat has more respect for the bird than I do for you...
)
***
Ughhh...I remember another thing I hate about sitting in a coffee shop for more than an hour...I'm lactose intolerant, but I get mochas with milk anyway 'cause they don't make light soy milk. I'm usually ok for a little while, but then after about 45 minutes, the stomach troubles start. Usually by then I'm home...not now. Now I'm still at the coffee shop and I made a pact with myself earlier not to leave the coffee shop until I finished the blog because I am not going to stll be working on this as 11 P.M...ughghghgh...it hurts...mommy, make it go away.
Anyways, now on to the next song.
A-Sides, "Cinematic"
(from their upcoming album
Silver Storms
)
"...say something cinematic..." What a romantic line. It sounds very ideal and dreamlike. I'm not sure exactly what he means by it, though. He says "say something cinematic, or become a tragic figure". A lot of cinematic figures were tragic, so it seems like someone could be tragic whether they're quoting a movie or not
I'll quote
Ferris Bueller's Day Off:

I am not going to sit on my ass as the events that affect me unfold to determine the course of my life. I'm going to take a stand. I'm going to defend it. Right or wrong, I'm going to defend it.
-Cameron Frye (definitely not a tragic character)
MP3 available on the
SXSW Site
and their
Website
. They also have a
Myspace
.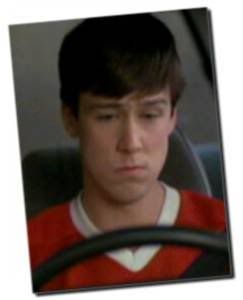 Cameron Frye,
Ferris Bueller's Day Off
***
I need to go home.
I've got to start taking my digestive troubles more seriously.
***
Remember I'm taking the next few weeks off. I'll be back with a new episode of my podcast and a new blog entry on March 25th, 2007.