Five Songs I'm Loving This Week
It's been another rough week (my MP3 player died...thank you for your condolences), so the narrative on this isn't going to be as spiffy, or well thought-out, or coherent as past entries. I apologize to the bands, but I'm just one tired little chicken. I'm also supposed to be writing a review for North Atlantic Explorers, and I will, but I'm so frikkin' tired.
I will be taking a "vacation" from the blog (and podcast) starting the weekend of March 10th and March 25th (with the next entry being on March 25th). I will be taking an actual vacation for half of that, though I doubt I'll be going anywhere. I will be resting and hopefully having fun.
I will be posting next Sunday (Feb. 25th) and March 4th. There will not being blog posts or podcasts after that until March 25th. The total non-musical Lola time will be three weeks. I'm tired, y'all. I'm getting a tad bit burnt out, so it'll be good.
Kamikaze Hearts, "Top Of Your Head"
(from the album
Oneida Road
)
This would be a good song to play on the way to Dragon*Con. Only because he says "40 miles 'till Atlanta". I could play it right as we hit 40 miles to Atlanta. It would take a lot of planning on my part, though, and I'm not sure that particular spot is marked by a sign. I suppose it could just be ceremonial--even if it's 50 miles, the thought will be there.
Anyways, this is a very nice, very relaxed Alt-Country song about (I suppose) a road trip, and someone's head sticking out from underneath some blankets. They're talking in the car about the good things they'll have in the end. I basically just gave away the plot of the song. Don't hate me! I love the spaciousness of his voice--it sounds like they're recording on the open road, or maybe just a very open recording space.
Gotta love the name of the band, too--Kamikaze Hearts. We're all on a love suicide mission ;)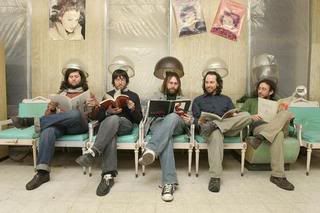 The boys getting perty. Kamikaze Hearts'
Website
and
Myspace
. The MP3 can be found
here
, on their website.
Breaking Up, "Caring is Creepy"
I loved The Shins' first album. I loved some songs from The Shins' 2nd album. I have yet to hear The Shins' 3rd album, but the few songs I've heard sadly haven't made an impression on me.
This is a cover of a Shins song from their first album that did make an impression on me, and continues to impress me, even years later. This version is from
The Bluegrass Tribute to The Shins
, and it is Bluegrass--gloriously and honestly so.
**Special note, Googling a Shins song and the phrase "breaking up" gets you lots of hits having nothing to do with this cover version.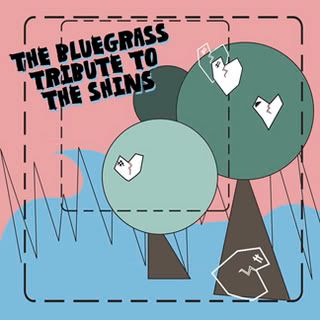 A Bluegrass Tribute To The Shins
Here's the write-up on the
tribute album
from the label that released it. I can't find crap on the band--not even a Myspace page. Unless they're main musical genre is ambient.
Husband and Wife, "Battlecab Dramatica"
(Live from WIUX)
Of course it's not hard to figure out what first guided me towards this song. Uh, a little similarity in name to a certain Scifi show?
The show could be about Battlestar Galactica...the singers asserts he's tired of running, though in BSG I don't think they have to necessarily change their address every time they jump. They've probably had to change their address twice--once when the colonies were first attacked and they ran, then again when they had to desert New Caprica. Let's just hope their Galactical Mail Service (GMS) is up to snuff and gets their stuff to them in a timely fashion.
Unless the GMS is run by Cylons...
Anyways, regardless of any BSG reminders, this is a very lovely, haunting song. I really like the way the melody goes when he says "Stephen, I'm sorry". (Is there anyone on BSG named Stephen? Is there a Stephen Adama?)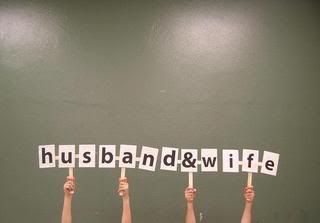 Hey--according to their
Myspace
, they tour with Anathallo, a band I adore. Coincidence, huh? Husband and Wife's
Website
and another site,
Musical Family Tree
. "Battlecab Dramatica" originally appeared on a 2005 split EP with another band, Away With Vega.
James Eric, "Sexy Back"
Because covering a Justin Timberlake song is always funny.
"Dick In A Box", anyone?
This isn't James Eric's only cover, he's got several to listen to in an embedded player on his
Myspace.
I found this song on Liza's blog,
Copy, Right?
The reviews on the Myspace site give the singer/composer's name as James Laczkowski; Eric is probably a stage name. I've heard way more unusual names than Laczkowski. 20 years on and I still can't pronounce Johnette Napolitano's (Concrete Blonde) name. Well, I can say it, but I always trip up on it. I can never spell it--I had to look up her name just now and copy/paste. Anyways, James Eric has a ton of songs available on his
website
.
James works hard to let his vulnerability show.
Retro:
Modest Mouse "Trailor Trash"
(from
The Lonesome Crowded West
)
Modest Mouse have become fairly famous. Well, famous among people who listen to the music I listen to. This song is from ten years ago, though, and was released on an independent label called "
Up Records
". (Please e-mail me if you have the rights to this song and want it down--yes, I am paranoid).
Anyways, it's an awesome song and gives you an idea of what Modest Mouse were like before they struck it in the big time.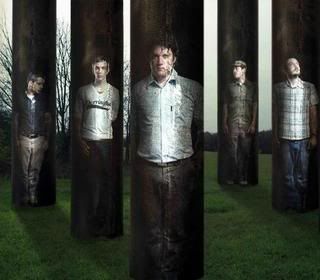 Modest Mouse's
Website
,
Myspace
and
Wiki article
.