Songs That Might Otherwise Pass You By
The Interiors, "Power Lines"
(Thanks to
Fingertips
for the link)
Okay, so I have no idea what this frikkin' song is about. "Power Lines" has some of the
oddest lyrics
I've heard in the last few months--at one point he says he demands respect from the dial tone. Well, I suppose we all want respect from the phone company (in my case it's the cable company). He's saying he's calling all lovers, his brother, his mother...eh, I don't know. The song sounds awesome, though. The guitarist plays so loudly and ferociously that I wonder if the building expanded to accommodate it. The singer whoops with glee, relishing the words he's pushing out. There's even hand-clapping, and you know I love hand-clapping.
Website
Myspace
The Interiors
, in an..interior
Angus & Julia Stone, "Paper Aeroplane"
I'm not sure what this song is about--before I looked up the lyrics I didn't have a clue, but after finding the
lyrics
, it seems that the song is about a letter. Lyrical meaning isn't the draw for me on this song, though. To me, the song is about the voice, the melody and the instruments. The vocals are languid --the singer shapes each word as if he were recrafting each one. There's a sensuality in his voice--when the singer goes "mmmm", I start to feel a little faint. Just a little. The song's relaxed without seeming listless. Imagine Jack Johnson with a little more edge. The duo, two young siblings from Australian, have been around for a few years (this song is from their '06 EP), but since
Spinner
just found out about them, I don't feel so out of the loop.
Website
Myspace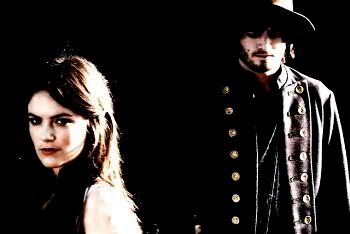 This is neither
Lena Headey
or
Rachel Weisz
. Instead, the lovely woman on the left is Julia Stone, of
Angus & Julia Stone
The Buddyrevelles, "The Foreigner"
What first drew me to this song was how much it reminded me of
Chin Up Chin Up
, one of my favorite current bands. While I still think that, I also began judging the band on their own merits (horror!) the more I heard their music. I love the loud, driving guitar in this song, and the hushed, terse, multiple vocals blend well without being identical or unidentifiable. The lyrics reflect real, honest and distressing thoughts people have. He asks if he's become an imposition, and he implies that his situation is having a negative effect on him (he talks about not being able to make ends meet). He says he listens to music to mediate the frustration in his life. Hmm...I can relate to that.
Website
Myspace
Well, I tried to find another picture of
The Buddyrevelles
, but they seem to really want people to use this photo!