Songs That Might Otherwise Pass You By
**Reminder: I won't be posting next weekend because of
Dragon*Con
. I'll be posting per norm in two weeks**
Amanda Palmer, "Leeds United"
(Downloadable from her
Myspace
)
I'm not sure what questions of love have to do with an English soccer team, but Amanda Palmer's ferocious piano playing and passionate vocal play tease my attention away from any perceived lyrical anomalies. The fierceness she displays is an anomaly all its own. The persona Amanda Palmer has cultivated is a prism, displaying and distorting the personalities of other theatrically-inclined female musicians, but she is the strange, alterna-version. Think the other parents in Neil Gaiman's
Coraline
. Could be Tori Amos, if Tori crawled out of the gutter, cuts covering her scuffed body. Could be Kate Bush, if Kate weren't raised by a loving family. Could be Courtney Love, with more focus and talent. She inhabits the crossroads between deranged and genius, nearly dead and fully alive. She makes us question if death really is so deadening.
Website
Amanda Palmer, not dead yet
Balthrop, Alabama, "Love to Love You"
If small town life in Alabama seemed this fun, I would have advocated stepping off of I65 and I20 more often. As it is, I didn't see much of small town Alabama when I lived there. I found out that a lot of rural Alabama is "dry", and, well, what's the point? Before I start lamenting lost opportunities, though, it's important to remember that this happy collective was formed and thrives in Brooklyn, New York, though members Lauren and Pascal Balthrop are from the iron state. So basically this tells me I should get on the I95 and go north, stop at the sign that says "Balthrop, Alabama" and become their 12th (?) member. This song calls to mind the very best of Belle and Sebastian: playful, giddy, melodic and a little hypnotic. It makes you feel a little dizzy--like you ate way too much candy and you might pass out.
Website
Myspace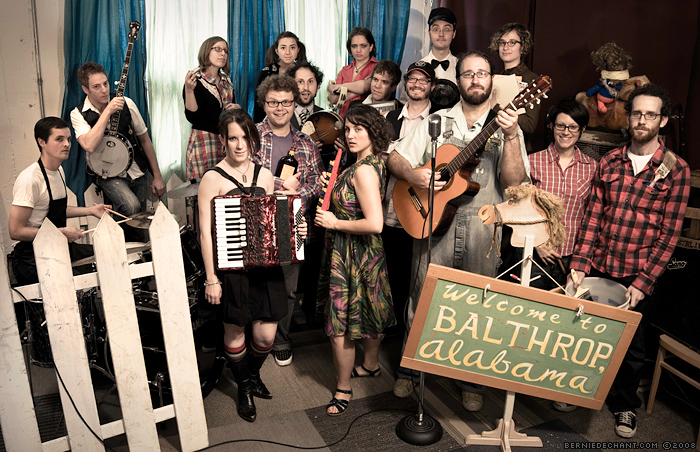 The mighty fine folks of
Balthrop, Alabama
. Some of the townsfolk are late of a bustling little border town called
Rainer Maria
.
The Faint, "The Geeks Were Right" (DIOYY remix)
I rarely ever feature dance music; the few times I do find a "dance" type song I like, I usually put it on the podcast, because, well, I want my listeners to be awake. Once or twice, though, I have found dance songs that I like so much I want to bring them special attention. Yes, in case you were wondering, this is one of those songs. Instead of making me want to lazily lounge in a meadow, as most of the songs I listen to do, this song makes me want to violently thrust my body in ways that are meant to suggest dancing. This song makes me want to nearly crack my head on the person unfortunate enough to be in my perimeter (though the practical part of me doesn't
really
want to crack my head--just
nearly
crack my head). This song makes me want to go to the
Masquerade
in Atlanta. Man, I miss that place so much. I haven't been in four years. I want to slither through crowded, dark corriders in
old industrial buildings
. I want to feel both alive and exhausted, concurrently. I want to earn my exhaustion, instead of being passively tired.
Website
Myspace
If these are the geeks, then they're just scary looking. (Photo of The Faint by Scott Dobry)