Songs That Might Otherwise Pass You By
Mieka Pauley, "
All The Same Mistakes
"
This is smooth, reminiscent of the hypnotic, melodic style of Poe, a band whose music defined a few of last decade's years for me. For most of the song, the singer's voice is level, calming--perfect for a quiet night in the dark, smoking a pipe or a hookah, staring out a window at the vaguest hint of a moon, and thinking about very little but tranquility. Towards the end, however, she lets some of the smoothness slip, straining her voice to match the dire pleading in the repeated line "I don't want to make all the same mistakes". The regret and emotion in that one line become very tangible through her expression.
Myspace
Website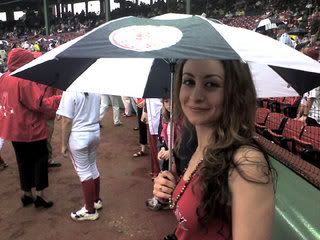 Mieka Pauley
Bang Gang, "
Find What You Get
"
I don't know why, but I get a certain spy music feel from this song. If
Alias
were still in production (long live the memory of
Alias
!), they would get much use out of this song. I could see it playing while Vaughn stealthily chops an enemy agent on the neck, making the person collapse to a crumpled heap. Then cut to Sydney slinking through a bar in some metropolitan European city, looking for her mark. Bardi Johannsson, the only member of Bang Gang, sings with an unforced, unharried ease, obviously not panicked by the tension drumming up around around him. His voice strings along the music, which urgently and fervently follows his lead, crashing into a wall of clattering confusion...perhaps the victim of a spy's cruel manipulation?
Myspace
Website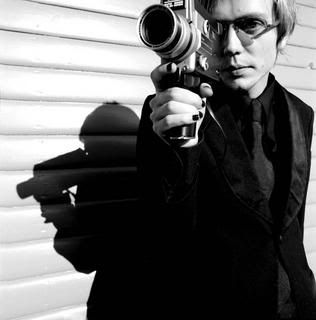 Bang Gang
The Thermals, "
Pillar of Salt
" (mp3 originally from
Salon.com)
Heh heh. They list the band "Forgone Conclusion" as an influence. Oh, that just cracks me up. If you don't know why that's funny, then oops. Sorry for you! Anyways, this is one of those songs that knocks you down, crushing your wits so you're not aware what's happened until it's over. Then you decide that was really cool, and you play it again. The album is named
The Body, The Blood, The Machine
, which is appropriately descriptive--their music is a machine, meant to raise the blood, the body and all the senses.
Website
Myspace
More song downloads from their
label page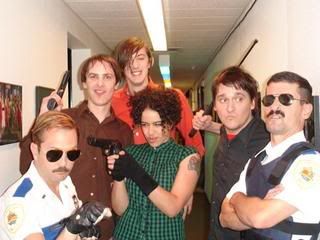 The Thermals
, with some of the cast members of Reno 911!
Bonus:
Keren Ann's "Lay Your Head Down" is a great song. I heard it on Paste Magazine's sampler. I couldn't find a legal (or even otherwise) copy of it, so here's
the video
.
Bonus ll!
David Brent, formerly of Foregone Conclusion, "If You Don't Know Me By Now"