Songs That Might Otherwise Pass You By
Rasputina, "Cage In A Cave"
(direct link from
Toolshed
)
Always wonderfully dramatic, Rasputina--consisting of lead singer/cellist Melora Creager and drummer Jonathon TeBeest--beat out intense, rolling affairs only matched in these modern times by the equally dramatic and theatrical Dresden Dolls. "Cage In A Cave", from their current album
Oh, Perilous World
, is an example of an exemplorary and highly compelling composition. The overlaying vocals, the melody which alternates between fiercely raw and sweetly light and the creative use of instruments such as cellos and (what sounds like) a picollo all tumble together into one powerful, pulling force. Rasputina commands attention in this song, and I doubt they would want for it.
Myspace
Website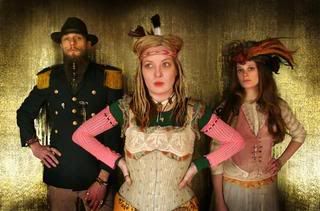 Rasputina
The Basement, "It's a kinda love"
The music is just beautiful. Is it not? Just gorgeous guitar work and violin. The vocals are a little bit too emo for me--he carries each syllable a little too much, to the point of dragging the vocals. The music, however, is enough to put this song at the top for me. Maybe I can find an instrumental version and sing my own vocals ;)
Myspace
Website
The Basement
Sean Hayes, "
Elizabeth Sways
" (from
IODA Promonet
)
Sean Hayes calls his music "Ambient/Folk" on his Myspace profile. I won't dispute this, but I would bend the Folk spectrum more towards "Freak Folk" on this one. I, of course, love both genres. When his voice blends into a tuba (and it blends eerily well), the freak flag is fully out. I love it all the more for the freakiness, and for the backwoods banjo-ness of the song. I don't know who Elizabeth is, but he makes me sway. I only wish I'd gotten to hear some of that Irish folk music he says he used to play in North Carolina.
Website
Myspace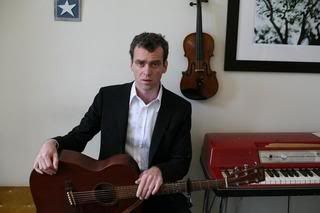 Chris Isaak ain't got nothin' on this guy,
Sean Hayes
IODA asks me to include the following in exchange for the use of the mp3:
Download "Elizabeth Sways" (mp3)
from "Flowering Spade"
by Sean Hayes
Sean Hayes
More On This Album