Songs That Might Otherwise Pass You By
The Contrast, "Clue"
(from their 2007 album
Underground Ghosts
)
I always think my mind is playing tricks on me, so I understand a bit of what this guy is going through. He thinks he's losing his mind, and more sadly, he says though sometimes his dreams come true, he doesn't have a clue. The lyrics get more dour: he tells someone he's glad they're there, but he asks them "Did you have to bring your fear?" Yikes. Talk about gratitude!
The pessimism is okay, though. Uncertainty has never sounded perfectly corralled inside a great melody. It's no stretch to say this song could be a long lost track from the great days of what we once called "college music". R.E.M., The Replacements and this song. Hearing this song takes me back to a period of music before alternative became another brand for bland. Before the "modern rock" stations began playing the same damn Maroon 5 song over and over. Before the "next big thing" was pre-determined by advertisers.
Eh, I'm just cranky. It's past my bedtime.
Website
Myspace
More mp3s on their
label site
.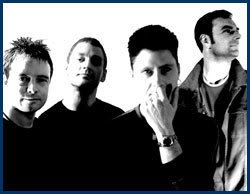 Contrast
Ashton Allen, "Prodigal Son"
(from the album
Dewdrops
)
I mentioned Ashton Allen in an October, 2005 post of mine, but none of his songs were available for download at that time. I just happened to be looking at his label site and saw his Myspace and decided to check it out again. I'm glad I did, because otherwise I probably would've never heard "Prodigal Son" This song is quiet, and still, but very pronounced. He has such conviction in what he's saying that he doesn't need physical volume; the volume is in the words--the meaning is louder than any music or vocal delivery. What is he talking about? He's talking about coming alive and giving himself to someone. All the scary stuff that propels our lives forward.
Website
Myspace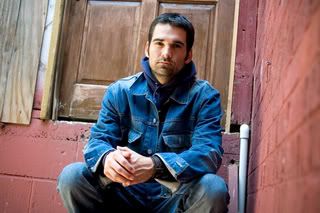 Ashton Allen
is nice-looking, yes, but more importantly he's very, very talented. Mind out of the gutter!
Touriste, "Shannon's Cannon"
(from the EP
Battle On
)
I've been looking for a postable version of this song for over six months now. I
originally posted their song "Your Move"
, found on KEXP, in November and I encouraged readers to listen to "Shannon's Cannon" on their Myspace. I'm very happy that KEXP is offering this song as a free download because I still think it's well worth your time to listen to it. It's definitely a unique song--there's something vaudevillian about it. The verses feature very light piano, drums and subtle vocals; however, the chorus rachets up into a heightened performance--rolling drums and punching vocals. You can almost imagine dimmed lights during the verse, curtains lowered, then the stage coming to life and light splashing over the performance area as the chorus dominates. It's a very visceral song--perhaps why I remember it so vividly seven months after I first heard it.
Website
Myspace
Touriste
Bonus!!
Keren Ann, "Lay Your Head Down"
(from her self-titled 2007 debut)
I'm including this as a "bonus" because I already
linked to the video of the song
a few weeks ago because I couldn't find an mp3 of the song. If I'd checked the KEXP feed, I would've realized that they had a version of the song for download! Oh well, better late than never at all. Don't tell me you don't like this song. Hand claps! She talk-sings the verses in a Lou Reed kind of way, gorgeously sliding into the choruses. The backing vocals are inspired--a series of staccato "bah"s with a sweeping round of "ah"s behind them. Oh, that sentence will make sense once you've heard the end of the song.
Listen to the song "Liberty" on her Myspace, also. Gorgeous!
Website
Myspace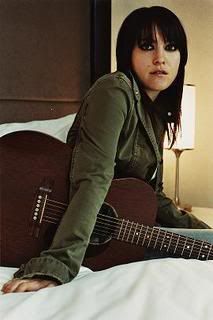 Keren Ann
loves rock 'n roll, put another dime in the jukebox, baby.