Songs That Might Otherwise Pass You By
Okay, so today was a horrible day at work. They put me on the phones for the first time, and the phone calls were constant. I don't really feel comfortable doing what I'm doing yet, and I'm very slow at it, and here's person after person wanting to know something quickly or wanting something done quickly. So, I'm very tired and my brain feels mushy (more so than usual). All this means is that this post might not be as well-developed as usual. I apologize before hand, and then I attempt to stop the leaking from my brain.
Palomar, "Our Haunt"
I featured this band a few months ago. "The Planiac", on SXSW's '05 site, is still a great song and one of my favorites I've heard from them. I'm hoping to get permission to put their song "Bury Me Closer" on my podcast, but I'm not sure I will. This week, though, I'm posting another great song of theirs-- this one available on their label's site--"Our Haunt". The vocals are purposefully a little off-kilter and acerbic, bringing to mind a strange, un-thought of combination of the sunniness of the Aisler's Set and the rawness of Hole. The music is definitely played hard; the piano and guitar funnel an intensity that explodes during the chorus.
Myspace
Website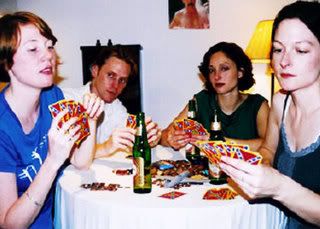 Palomar, breaking bread
Through The Sparks, "Mexico (Every Last Buffalo)"
(Direct Link)
I'm not biased because they're from my first adopted hometown, Birmingham, Alabama. That is not a criterium for getting into my good graces. Okay, so it helps get my attention, that's for sure. Then after that, the quality of the music determines if they get a hallowed, glorious spot on this webpage. This song is just completely engaging. The singer eerily sounds like David Bowie from the 70's, and honestly, this song wouldn't have been out of place in Ziggy Stardust's repetoire--
early
70's. Very Velvet Goldmine. The lyrics even contain the phrase "space age" and mention the 70's. Unrelated, the singer also mentions "polymer" which sounds like "palomar" which is just weirdly coincidental. The music is playful: a keyboard plays slightly spacy organ music and the bass guitar punches each break between the vocals with a cute succession of notes. Towards the end, they add several more instruments which fills out the song a bit more, but the song still retains it's great space oddity-ness.
Myspace
Website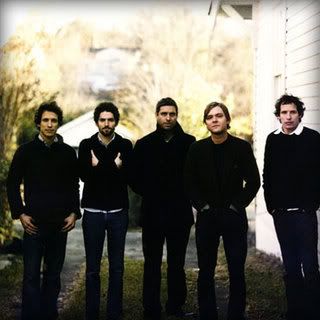 Through The Sparks
Rose Melberg, "Time Has Come "
(Direct Link)
Her music is as lovely as she is. Light vocals overlay a slightly alt-country acoustic lament. If I didn't know otherwise, I might think this is a long-lost Cowboy Junkies or Mazzy Star (Oh God--I miss Mazzy Star so much) song. Mazzy Star would be the best comparison--the music isn't as prone to twang as Cowboy Junkies (no disrepect to twang--I love twangy country, too) and her voice is heart-chillingly sad. Her voice echoes, like she's in the most acoustically hollow space ever. It's simply gorgeous, and if I weren't so fond of the indoors and unhappy with insects in general, it might make me want to sleep under the stars in a New Mexican desert (which I've done before, and would love to do again.) Never mind that she's Canadian and further from the desert than I am.
Myspace
Unofficial Website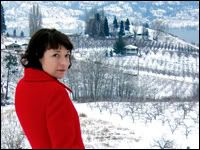 Rose Melberg
Podcast later