Songs That Might Otherwise Pass You By
**Before I begin, I wanted to let y'all know that regarding my podcast, I've been having issues with my iTunes feed for the last month. I've been e-mailing Libsyn, where I host my podcast, but so far no solution. If anyone is familiar with accessing podcast RSS feeds through iTunes, I would sure appreciate some help**
The Raveonettes,"Dead Sound"
(Direct link. I originally got the link from
In House With Jeremy Petersen
).
The Raveonettes always come in fast and furiously. They purposefully limit the number of chords they use, and the vocals stringently stay within the same guidelines. It's like a pop version of the punk motif, though they're limiting themselves as a style choice, not because..cough cough...they only know three chords, like some punk bands (I love the punk, but it be a true a statement.)
The Raveonettes goal with the quick and dirty approach to is to knock us over and leave us with something branded on our memory; we know something hit us, but we're not really sure what.
Myspace
Website
The Raveonettes
The Radio Dept., "The Worst Taste In Music "
(Direct Link)
I've been listening to The Radio Dept. for years--I posted one of their songs somewhere around the time I first started this blog. Their music is overlaid with fuzzy feedbackness (which I love), but underneath is always a top-notch rock song, complete with dramatic piano and amplified guitar. The singer's voice glides over the dramatic music as if he's trying to blend his voice in with the fuzz, as if he knows that there's already so much going in the song that he needs to pick a side and go with it, rather than trying to add another layer to a song that's already close to becoming a "wall of sound".
Myspace
Label Site
The cover for the Radio Dept.'s
Pet Grief
<
Elk City, "Los Cruzados"
(Direct link. I originally got the link from
In House With Jeremy Petersen
).
There's something very timeless, as in outside-of-time, about the singer's vocals. Is it Patti Smith from the 1970s? The song could easily be from this era; it could come on the radio right after a Fleetwood Mac song. Her voice is as smooth and as slick as the singer's from 80's band, The Motels. Where The Motels were gorgeously and richly harkening back to the romanticism of the 40s (especially with the singer's attire), I get the sense that the singer for Elk City is letting her vocal style fall where it's destined to fall; whether she's aware of any anachronistic qualities or not. The song even has a little spaghetti-western guitar in it, which means if it had been released a few years ago, it would've been a great candidate for one of the Kill Bill movies.
Myspace
Website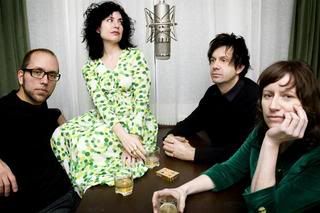 Huh...instead of bed head, we now have the term "Elk Head".
Bonus: Jamming in the Middle East
Cool video from The Chemical Brothers, "Do It Again" (Ok, well the first five seconds are more distressing than cool, but the rest of it is great).